Disclaimer: Not everyone will want to read a ton of stuff before hitting the playa for the first time.  There is a lot to be said for starry-eyed innocence!!  
Some stuff you have to read (the survival guide & for melons the mandatory camp emails). You may or may not want to read extra stuff though.  Perusing a good packing list is almost certainly a good idea!  But reading up on the vocabulary of Burning Man or what people say a "typical" day might include - or even how the city is laid out, well, it just may not be for everyone!  So read as much or as little as you like!  Feel free to save yourself and learn when you arrive. Trust us, there is no right way to do this!
What is Black Rock City and What Does it Look Like?
Black Rock City is
organized
as a semi-circle enclosed in a pentagonal perimeter fence.
There are city blocks defined by concentric streets in alphabetical order (their names are different each year, according to theme) and radial streets named for clock times (9:00 to 2:00).
The perimeter fence is there for a number of reasons, one of which is to stop wind-born MOOP from escaping the city.  For that reason, it is most often referred to as the trash fence. It is far. Try to make a visit - especially if Daft Punk is playing a show there!
The term playa means a dry lake bed. Black Rock City is built on a playa. "Playa" is also used to refer material that makes up the lake bed- the ground or the dust. In terms of navigation though, if someone says "the playa" at Burning Man they generally mean the area of within the trash fence that is not within the city blocks. The playa is where most of the big (and some small) art is.  
The Deep playa refers to the part of the playa that is farther away from the city blocks.  The Temple (see below) is generally thought of as deep playa. The closer you get to the trash fence, the deeper. The Deep Playa is a fun place to explore - there are generally fewer people out there and a lot of fun surprising art projects.
Some of the Central Places at Burning Man include: The Man, The Temple and Center Camp
In the center of the city will be the eponymous piece of art: THE MAN.  The man looks different every year. The man burns on Saturday night.  Generally there is a lot of art and activity around the Man throughout the week. Many regional groups get together and create art projects to contribute to the area around the Man - if you're looking to connect to local Burners from your neck of the woods, check out the Man during the day.
The Temple is another piece of art that is very important to many Burners. Ask any Melon and they can tell you about their first experience at The Temple. It's impossible to describe the Temple, it's meaning for people, or how folks interact with it. You will just have to experience it for yourself. The temple burns on Sunday night and is generally a much more quiet and somber event. The Melons generally go to the Temple burn together after breaking down camp.  Like the man, the Temple also different each year. If you want to check out plans for the Temple this year, click here.
Center Camp is a giant tent in the middle of city where you can find art, spoken word, performances and delicious hot and cold beverages. Center Camp is the only place at Burning Man where you can spend your default dollars on a hot or cold beverage. If you are ever looking for a place to get out of sun or dust, Center Camp is a great place to journey to. 
On the city streets you will find Theme Camps, Villages, Smaller Camps, Solo RVs - the list goes on....
Theme camps are groups of folks who camp together and generally work together to contribute something to Black Rock City. They are highly varied!  They might have 8 people or 80, they might build and run an art car, or be an art support group, or create a loungey space, or offer workshops, or have a bar, or host events. Most theme camps will have (somewhat) clearly demarcated space that is private from what is more public. Some theme camps are "open" during certain hours or in certain places, but keep some times and places to campmates and friends only. If you aren't sure about whether you should be wandering into some place- just ask!  Chances are, a lot more will be welcoming and open to you than you might expect!  
Villages are communities of camps integrated together.  They generally house at least 30 people, and possibly many more. They are varied in the same way theme camps are.  They may have more structure and even more demarcated public and private areas.  

The Temple of Transition from 2011
What's a Day Like at Burning Man?
This is really impossible to say!  
The most reliable information we can give you is that when you prepare to leave camp, prepare for ANYTHING! You could be gone for five minutes or five hours. Also, remember that the temperature changes when it gets dark. Almost everyone returns to their camp to change clothes.
Here is a selection of possible activities that could happen:
Riding around the playa to look at art - There is so much art!  You won't see it all!  Much of it is quite different day from night.

Just lounging at camp - a popular way to save yourself from the heat, get to know your campmates, and try to recover/re-energize!

Visiting other camps - meet some new people!

Attending scheduled events - work/playshops, yoga, talks, food/drink experiences, bike rides/races, arts and crafts, there's really no end!

MOOPing - take some time to pick up anything out of place!

Playa missions/Fool's Errands - these can range from trying to find an elusive art in deep playa, meet a friend at another camp, or go to a scheduled event. You might have a list of five things you want to do while adventuring, but don't be surprised if you don't do any of them. The playa has a way of distracting…

Napping - if you can manage this, that is awesome!

Helping build/clean up Melon Camp

Dancing - at sound camps or art cars, or theme camps that aren't really sound camps but have dancing times, or just wherever!

Riding art cars or Chasing art cars

Wandering the playa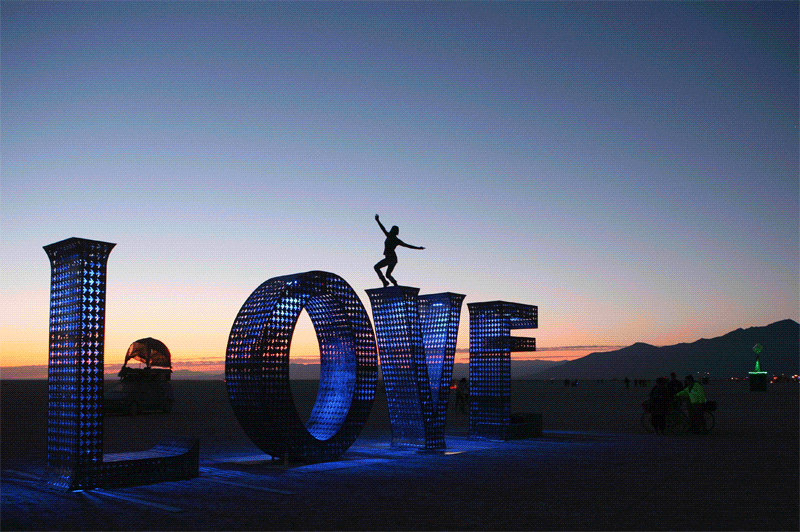 Who Are the People at Burning Man?
Burning Man is filled with people who contribute to making it the incredible thing in the desert that it is.  Many virgins/first-timers are surprised by the amount of
infrastructure
and organization that they see when they get to the playa. While not an extensive list, here are some of the many people you may see during your week on the playa: 
Black Rock Rangers: Black Rock Rangers are participants who volunteer a portion of their time at Burning Man in service of the safety and well-being of the Burning Man community. Rangers act as non-confrontational community mediators, providers of reliable information, facilitators of public safety and navigators of the edge of chaos. 


Department of Public Works volunteers: is the group that plans, surveys, builds, and takes down the basic infrastructure of our temporary community in the desert. Since the 1997 event the DPW, hand-in-hand with other departments, has instituted the City Plan, through which roads and basic infrastructure throughout the BRC are gridded and built.



Black Rock City's Emergency Services Department (ESD): Volunteers and staff are available before the event officially starts, and are on duty until the last participant leaves. ESD provides fire protection, medical evaluation and treatment, mental health services, an Emergency 911 Dispatch facility, and the communications infrastructure for Black Rock City.
****A note about Law Enforcement at Burning Man:  It is real!  
You will see lots of law enforcement vehicles on your way in to the Burn, and once through the gate, on your way to camp.  THEY WILL PULL YOU OVER IF THERE IS ANY REASON FOR THEM TO.  Be sure your car is fully up to spec: all lights properly working, license plate unobstructed and lit, all loads properly tied down.  DO NOT SPEED.  DO NOT RIDE ON THE OUTSIDE OF YOUR VEHICLE.  Please click here and here for more information about Law Enforcement at Burning Man.
How Do I Get Around At Burning Man?
Playa navigation i
s tricky!  The city is constantly influx. There will be significant projects being built throughout the time you are there, and things will start being burned and/or torn down shockingly soon after you arrive.  Most things look very different during the day then they do at night. Oh, and also, most things move!
Bikes!

Y

ou probably want to have a bike.  It isn't *essential* and lots of folks seem to say that it is a good idea to leave the bike behind sometimes and walk more but having a bike (or a trike!) is really great!  Click here for more advice about bikes. Here are s

ome key points:

Light your bike!!!!  this is crucial!  You need to be visible. I think lots of one color also makes your bike easiest to find when you walk away from it then try to find it again amid hundreds of dusty bikes

Have a headlight!  Sometimes there are things, or people, laying on the playa. They should have lights on, but you don't want to run them over even if they don't.  Also, it helps for looking out for the worst patches of loose playa to avoid.

You'll want a lock. This is mostly to discourage unintentional or thoughtless theft, not malicious theft.  Don't bring a U lock.  Go with something light-weight, preferably with an easy combo that you can share with your buddies. 

Get a basket if you can - you will want to carry things with you on your bike for long adventures.

Art Cars!

A lot of camps build art cars that roam the playa day and night playing music, giving out treats and just looking cool. You can generally jump on one of these art cars and join the party. Some cars have a destination and don't stop until they get there, others make frequent stops as they roam the playa. Be prepared for either adventure when you get on board. 

Art cars are a nice way to save your legs if you're tired from walking or biking during the week!

Walking! 

You get a really different experience and view of things when you walk.  Try and go out on foot while you're at the Burn - JUST REMEMBER TO STAY LIT!

On big burn nights like Saturday and Sunday, you will probably want to walk.  When so much of the population gathers in one place, having a bike can really be a hindrance.

Traditionally, (many) melons walk to the temple burn together.  On man burn night, some of us will ride our bikes to the edge of the playa and leave them there, then walk the rest of the way to the burn.

What Will I Feel Like At Burning Man?
You are probably going to have some epic emotions at Burning Man. Embrace these emotions! Everyone is having them! However, if you are having a bad emotion, consider a few things first:
Are you thirsty? Have some water whether you think you're thirsty or not. Hydrate

Are you hungry? When did you last eat? Consider eating something.

When did you last sleep? Maybe take a nap, or just go to bed!
If those aren't the problem, find a close friend, or a stranger, and have some real talk. Emotions have a habit of finding their way to the surface on the playa. Consider this an opportunity to let them out. And don't worry, if you're feeling like talking, there is always someone who wants to listen. That is the beauty of this thing we call Burning Man.
Shit Burners Say
It was better next year - this is my favorite burning man saying. The burn is different every year.  That's kinda the point!  You'll still hear people lamenting about back when, and now that it's jumped the shark, and blah, blah, blah!  But there is a large part of the culture also focused on embracing motion and change.  and also rejecting the pressures of "cool"

welcome home - to many, Black Rock City is their home.  It seems really important to some folks that we are all home when we are on the playa.  This a standard greeting.


you're doing it wrong! - usually said ironically to criticize those who seem to be making judgments on the way others burn.

the playa provides - refers to the belief that "it'll all work out" or if you need something, someone will give it to you. Largely based in the sort of worldview that helps people aim to "manifest" things.  (and you will hear plenty "manifest" talk too…) but this phrase also refers to the culture of burning man.  If you need something, speak up, ask around.  Someone will help you out.  

playa magic - again, sometimes referring to a belief in really magical things.  Sometimes just an appreciation for the surprising ways that things seem to just work out or coincidences happen.

Work hard. Don't do stupid shit. - Another favorite of mine.  Pretty self-explanatory.

playa score - ground score.  on the playa.  In other words: MOOP you want (or someone else does)

virgin/birgin - a person who has never been to burning man.  duh.

burnier than thou - refers to folks who seem to behave as though they are better burners than you/others, know better what the "right way" to burn is, have a deeper connection to the playa, a better understanding of the principles, etc.  Might be likely to be heard talking about back when the burn was cooler/better, etc.

weekend warriors - people who come to BRC just for the weekend.  Generally seen as being more "party people" looked down upon by anyone even the slightest burnier than thou.  Often blamed for MOOP, messy porto, etc.

burn night - usually people mean the night the man burns - Saturday.  They may also say "man burn night".  Things burn every night though.  The temple burn is on Sunday.  There will be art scheduled to burn on Thursday and Friday as well (at least).

anything involving "Daft Punk at the trash fence" - in previous years, there have been stupid rumors about Daft Punk playing at the trash fence.  But this year I heard they really are!  

art car/mutant vehicle - art car is an old name.  there are some historical art cars that get grandfathered in.  vehicles are now required to be more heavily altered, thus the name mutant vehicles.  but everyone still calls them art cars.     

When someone asks the time, check in that they "really want to know" or say "spoiler alert" before saying the time.

I heard it would be dusty this year - yes, yes it will.

In dust we trust -  ummm, it's dusty

embrace the dust - see above

cars are real - this is important!  Cars are real!  It can be hard to tell out there.  Everything is bright and flashing.  You may not be entirely sober.  You are likely overwhelmed.  But cars are real!  Make sure you are lit up!  and get outta their way.
piss clear - don't get dehydrated.

sparkle pony - someone who shows up unprepared or does not contribute.  (They may look pretty or have good costumes, but they don't work, plan, offer help, etc. and they depend on others to have their needs taken care of.)

snarkle pony - snarky sparkle ponies? or maybe just snarky folks in general.  

fuck yer burn - ...ya know…. I am really not sure…. Fuck yer burn!

the playa shuffle/the strugglebus

- when you are trying to leave camp with a group.  aka hearding cats.
Burn Night in 2011